庆祝千诗碧可品牌美国工厂开业
        2011年6月28日,位于美国马里兰州格伦伯尼区的千诗碧可品牌美国工厂隆重开业。工厂占地面积超过12.5万平方英尺,是千诗碧可的第四个生产基地,也是在美国的第一个。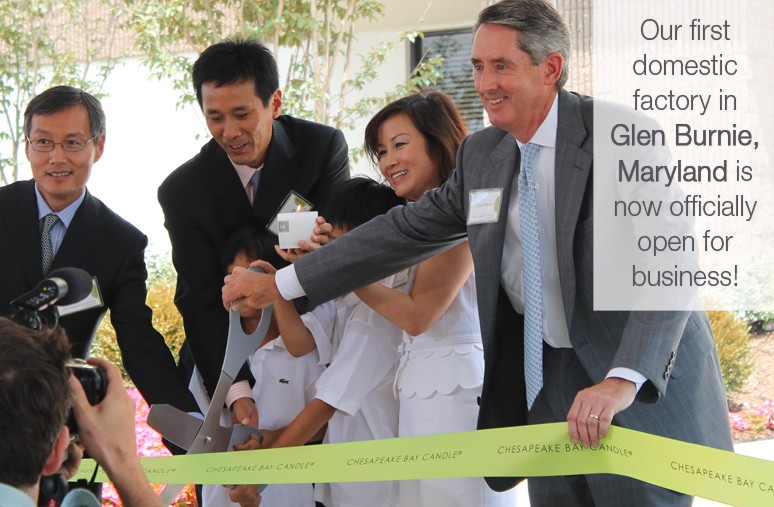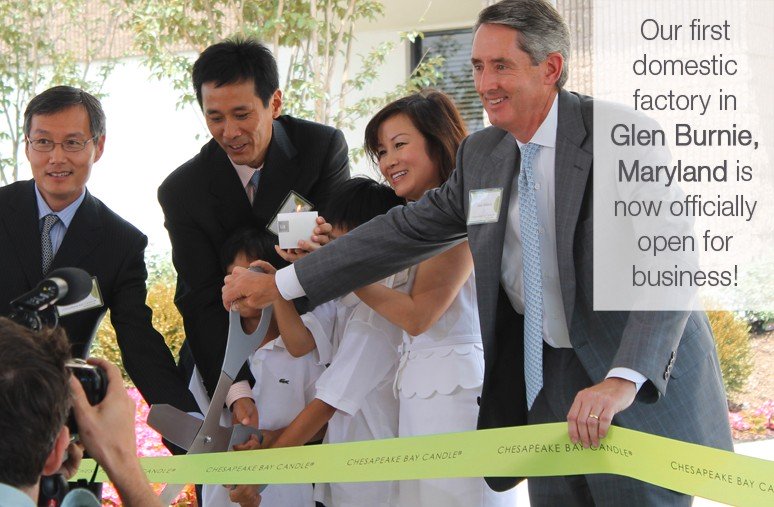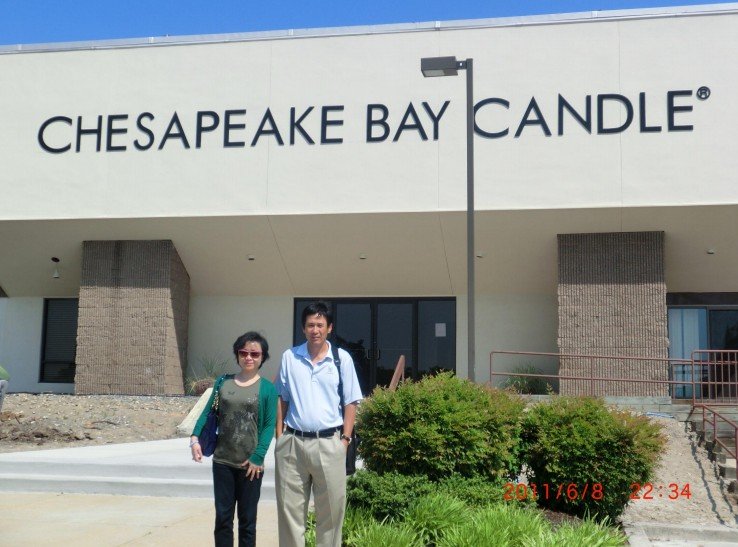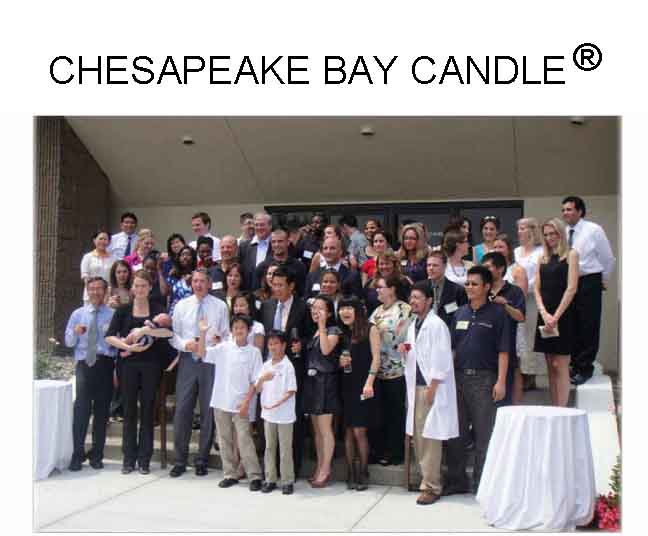 1994年,夫妻档组合徐梅和王勇在她们马里兰州安妮波利斯家里的地下室开始了蜡烛事业,那时她们就想着把部分蜡烛在千诗碧可港湾附近建立基地进行生产。一晃16年过去了,当一切准备就绪,我们很荣幸的在这里宣布我们在美国本土的第一家工厂在美丽的马里兰州开张,这是我们的品牌梦想诞生的地方。
Having started the company in the basement of their Annapolis, Maryland home in 1994, husband-and-wife team Mei Xu and David Wang are preparing to bring part of our production back to our roots near the Chesapeake Bay. More than sixteen years after everything started, we are proud to announce the opening of our first domestic factory in the beautiful state of Maryland, where our brand's dreams were born. Our new Glen Burnie factory in Anne Arundel County is our fourth manufacturing facility, but our first in the United States.
我们拥有顶尖的研发中心和实验室来进行香型的评估,香型稳定性测试以及燃烧测试,这些设备将用来扩大罐装蜡烛的标准化和全自动化生产。
Equipped with a state-of-the art research and development center and laboratories for fragrance evaluation, fragrance stability testing, and burn testing, this facility will be used to produce an extensive range of filled vessel candles through standardized, automated production.
工厂占地面积超过12.5万平方英尺,不久以后也将在这里建立仓库和分销中心。新工厂离位于罗克维尔的总部仅隔几英里之遥,这让总部的设计团队和工厂的研发中心和生产部门能够更好的交流合作。
With over 125,000 square feet of space, the space will soon also house a warehouse and operate a distribution center. Having a factory only a few miles away from our headquarters in Rockville, Maryland also allows us to strengthen collaboration between our creative team at the headquarters and research and development and production at the factory.
从一开始,Chesapeake Bay Candle就在消费者心中树立了"顾客至上,设计和香味为导向"的形象。每一种家居香氛的开发都是现有消费者需求的体现,也是家居行业在香型,色彩,设计和质地上的潮流趋势。罗克维尔总部的产品开发和设计团队通过复杂的全球流行趋势研究,包括参观国内外的展会,商场考察以及对新兴时尚,艺术和流行文化的分析研究,来确定总体的趋势所向。我们的流行研究慢慢融入了全球香氛流行趋势的创造中,顶尖的潮范设计为我们赢得了行业内无可争议的领头羊称号。
From the very beginning, Chesapeake Bay Candle has established a reputation as a consumer-inspired, design and fragrance driven company. Every home fragrance collection is anchored in a macro trend responding to current consumer attitudes and reflecting the latest trends in fragrance, color, design and texture relevant to the home industry. Macro trends are identified by our Product Development & Design team in Rockville through a complex, global research process including domestic and international trade show visits, store visits, as well as analysis of emerging trends in fashion, the arts, and pop culture. Our research is filtered into the creation of macro trends relevant to the world of home fragrance – culminating in trend-forward design that has earned our company a reputation as an undisputed style leader in the industry.
我们深知香氛的巨大作用,Chesapeake Bay Candle 的各种产品系列都是建立在"香味第一"的原则上,香味设计永远是每个新产品开发的第一道关。我们只与美国和欧洲顶尖的香精供应商合作,这使得我们有能力给顾客提供格调多韵的成熟产品,并且将价格控制在顾客可接受的范围内。我们的产品系列平衡了各种香型-典型的代表了八种香味家族元素并且能够为各种不同品位和个性的人提供了迷人的芬芳。一旦香型和色彩被罗克维尔总部的产品开发和设计中心确定下来,新产品还得经过严格的产品测试阶段来确保产品达到我们理想的质量标准并且能够在上市后能够勾起顾客的购买欲望。
With a deep understanding of the magnificent power of scent, Chesapeake Bay Candle collections are grounded in our "Fragrance First" philosophy: fragrance design is always the first building block in every new product line. Our unique alliances with the best fragrance vendors in the U.S. and Europe allow us to bring sophisticated, multi-note scents to the market at affordable pricing. Our collections offer well-balanced fragrance assortments – typically representing all eight fragrance families and providing a captivating scent for every taste and personality. Once fragrance and color stories are finalized by our PD&D team in Rockville, the new product must go through a rigorous development & testing process to ensure it meets our premium quality standards and will entice the consumer when it hits the market.
对于美国国内生产的蜡烛,产品的开发和测试是在格伦伯尼的产品研发和测试中心完成的。原始的蜡烛配方的稳定性和兼容性是由我们稳定性测试实验室里进行的。在产品研发中心,每一种新产品都有独一无二的配方-现有形式的优化(尺寸,形状),蜡的类型,色彩和香型组合来达到理想状态的香味挥发和蜡烛的干净燃烧。燃烧测试是在燃烧性能和香型评估实验室进行的,来确保达到理想的燃烧性能,香味散发,以及安全地研发和限度的生产。
For domestically produced candles this development and testing will occur at our Glen Burnie Research & Development and Testing Centers. Proposed candle ingredients are tested for stability and compatibility in our Stability Testing Lab. In the R&D Center we develop a unique formula for every new candle – optimized for the given format (size, shape), wax type, color and fragrance combination for a premium fragrance delivery and a clean burn.The formulation is burn tested in our Burn Performance & Fragrance Evaluation Laboratories to verify optimum burn, fragrance throw, and safety both of development and mass production product.
一种典型的香型是由许多不同的原材料组成的,不是所有的原材料都能自动的与蜡烛的其他配方相兼容。为了确保产品的高质量,我们和香精供应商一起合作开发来确保香精能在蜡烛配方中有个好的性能体现。选中的香精到达工厂后要经过反复的测试来确保跟其它的蜡烛配方完全融合。
A typical fragrance can have many different raw ingredients and not all ingredients are automatically compatible with a selected wax formula. To ensure the highest quality product, we partner with our fragrance suppliers in the development process to ensure that the fragrances are developed to best perform in our wax formula. The selected fragrances go through verification testing to ensure that they are fully compatible with our proposed wax formula upon arrival at the factory.
一旦蜡烛的配方完全确定下来,产品就可以进入生产程序。拥有了完全标准化和全自动的生产设备,我们格伦伯尼工厂具备了每小时2000个蜡烛的生产能力。
Once a candle formula is fully established, the product is ready to go into production. With our fully standardized, automated production process, the Glen Burnie factory has the capability to produce 2000 candles per hour.
生产过程包括烛芯的插入,容器的预热来确保每个蜡烛成品容器的干净整洁,然后按照一定的流程将融蜡灌入容器中。按照现有的蜡烛类型来看,目前的生产操作中能同时将融蜡注入四个容器。
The production process includes the insertion of the pre-waxed wick into the vessel, followed by the pre-heating of the vessel ensuring a nice clean finish on each candle, and the pouring of the wax formula into the vessel. Depending on the style of the given product, our production process allows for up to four pours of wax.
超过四百英尺长的传输带给予了蜡烛进入贴标签和包装程序前足够的时间进行冷却。在进行合适的包装前,蜡烛会被贴上侧签和底签然后封上盖子。
Over four hundred feet long, our conveyer line is long enough to allow for ample cooling time as the candles travels into the labeling and packing area. Once it arrives here, the candle receives its side and bottom label and its lid before it is packaged in the appropriate packaging.
待包装完毕,蜡烛将被分配到各零售店,如Target, Kohl's, and Hallmark等商店,在这里它们等待被客户买走然后最终实现它们的价值。
After the candles are fully packaged, the product is ready to begin its journey to the retail store – Target, Kohl's, and Hallmark are just a few examples – where it is waiting to be purchased and enjoyed by the consumer.